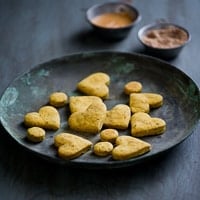 Turmeric and Flax Dog Biscuits
Yield: A couple weeks worth of good dog treats
Total Time: 1 hour
Ingredients:
3/4 cup (180ml) hot Water
1 teaspoon Beef or Chicken Bouillon Powder
1 1/3 cup (175g) all-purpose Flour
1 1/3 cup (175g) Whole Wheat Flour
2 Tablespoons Brown Sugar
1/2 cup (55g) ground Flax Seed
1 Tablespoon Turmeric
1/2 cup (130g) Peanut Butter
1 Egg
Directions:
Preheat the oven to 350°F. Line a sheet pan with parchment paper.
Dissolve the bouillon in the hot water. Set aside.
Combine the flours, brown sugar, ground flax, and turmeric in a mixer bowl. Using a dough hook, mix in hot water mixture, peanut butter and egg. Continue mixing until the dough ball is smooth, occasionally scraping down the sides of the bowl to help everything mix together.
Roll out the dough to 1/2" thick. Cut into desired dog biscuit shapes (we use hearts for "good dogs" and small circles for training incentives). Place the cut out dog biscuits on the prepared sheet pans.
Bake for about 35 minutes or until the biscuits feel dried and fairly hard (they will harden a bit more after cooling).
Recipe Source:
WhiteOnRiceCouple.com.
Read more at
http://whiteonricecouple.com/recipes/best-dog-biscuits-recipe/#sSCd2Jgh6PP8VeyM.99