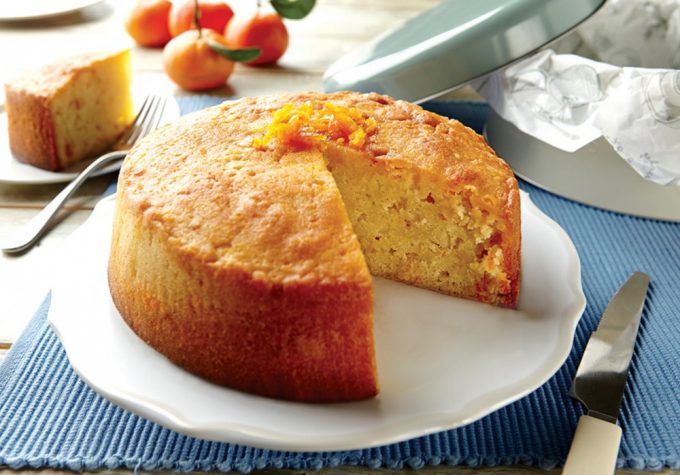 Ingredients:
200g butter (spreadable texture)
250g sugar
35g clementine zest (from about 5 clementines)
15g lemon zest (from about 2 lemons)
4 free range eggs (xl size)
250g ground almonds
100g plain flour
For the syrup:
100ml clementine juice
75g sugar
Method:
1. Grease and line a 7 inch diameter round cake tin with parchment paper, ensuring the paper stands about 1 inch above the top of the tin – this is to hold syrup as it soaks in to the cake later in the process. Ensure the butter is a soft, spreadable texture and the eggs should be at room temperature.
2. Wash the fruit, then remove zest from the clementines and lemons. Squeeze the juice from the clementines and keep aside to make the syrup later.
3. In a large mixing bowl, add both of the zests to the butter and sugar and blend together. Slowly add the egg, beating it in until well incorporated into the mixture. Add the ground almonds and flour and stir well. Spoon the mixture into the cake tin and bake in a pre-heated oven for about 60 – 75 minutes at 170°centigrade (non convection oven) or until a skewer inserted into the cake comes out clean. The cake should have slightly shrunken from the sides and be springy to the touch. When ready, remove from the oven, leave it in the tin and place on a wire rack.
4. To make the syrup, warm the sugar and clementine juice in a small pan over a low heat until the sugar has dissolved. While the cake is still warm from the oven, pierce the cake to about three quarters of its depth using a skewer (a piece of spaghetti works well) to make lots of holes about 1 inch apart all over the surface of the cake. Drizzle over the syrup – you may have to do this in stages to allow all the syrup to soak in. Let the cake cool completely in the tin, then turn it out on to a serving plate. Serve with segments of clementine and crème fraiche.