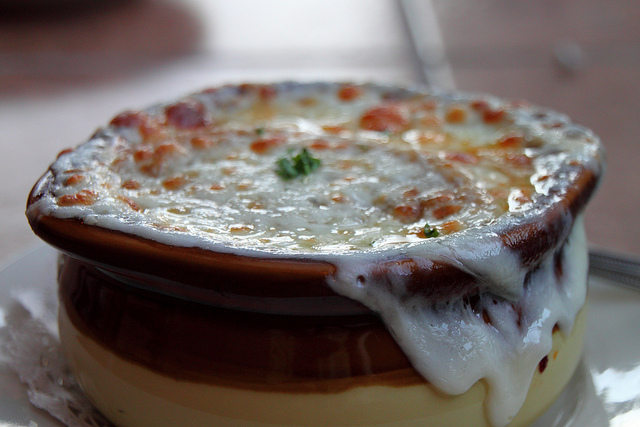 "Marry Me" French Onion Soup (Vegetarian Version)
This is an ultra-simple slow cooker version of simply the best French onion soup you will ever eat. Cooking it slowly in the crock-pot, then refrigerating it overnight makes all the flavors blend together and renders a soup with buttery tasting onions in a deeply satisfying broth.
Ingredients:
>> Vegetable broth (see note)
>> 4 large sweet onions (cut in half vertically and then cut into thin, vertical slices)
>> Mozzarella cheese (Vegan option: I find that Trader Joe's Brand works best)
>> 2 slices lightly toasted French bread per onion
>> 1 tablespoon sugar (brown or regular granulated or basically whatever is in the house)
>> 1 tsp. vinegar
Method:
1) Put the onions in a crock pot, add the brown sugar, and cook on low for approximately 8 hours. The onions will release their own juice and turn a golden brown. Cook them until the onions on the bottom of the pot begin to caramelize (up to 10 hours). I usually put the onions in when I go to bed and let them cook overnight, checking them and stirring them in the morning when I get up.
2) Once the onions have begun to caramelize, add enough vegetable broth to the crock pot to cover the onions, salt and black pepper to taste, and cook on low for another 4 hours.
3) Refrigerate overnight.
4) To serve, heat the soup in a sauce pan on top of the stove (I do not use the microwave as it tends to thin the flavors). While the soup is heating, put thin slices of vegan mozzarella cheese on top of each slightly toasted French Bread slice and broil in the oven until the cheese melts. Slide two slices of the heated onion soup into each bowl and serve piping hot.
Serves 4
Note: Store bought vegetable broth can be used. For homemade vegetable broth, I keep an ongoing open bag of vegetable cuttings and trimmings in the freezer. When I get enough to fill a crock pot, I put the vegetables, (frozen as they are), cover with water, and cook them on high overnight. In the morning I throw out the (by now overcooked) vegetable cuttings and save the broth in jars in the fridge.
Author: Carmelene Siani
Editor: Catherine Monkman