Makes 60 chews
Each Turmeric for Dogs Chew contains:
Approx. 500 mg of turmeric with 25 mg. of curcumin each
Ingredients:
½ tsp. black pepper
3 tbsp. Org. gelatin (Pork or Beef)




Method:
In a small sauce pan, melt the coconut oil. Stir in the gelatin, black pepper, and turmeric until well blended. You'll need to stir it for a few minutes so that the gelatin does not coagulate on the bottom of the pan. When it is thoroughly blended, spoon into chocolate molds, like this one.
Leave in a cool place overnight. Remove from molds. Keep refrigerated. These will melt in a warm room.
See the chart below for serving size.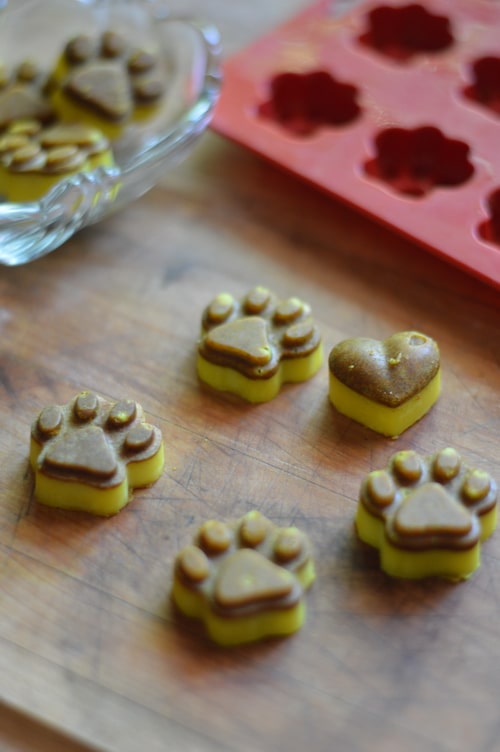 | | | |
| --- | --- | --- |
| Size of Pet | Serving of Turmeric per Day | Daily Turmeric Chews |
| Small dog or cats under 10 lbs. | 1/8th of a tsp. | ½ chew |
| Medium dogs 10lbs to 20 lbs. | ¼ of a tsp. | 1 chew |
| Large dogs 20lbs to 50lb | ½ to 1 tsp. | 2 to 5 chews |
| XLarge dogs 50 to 100 lbs | 1 to 2 tsp. | 5 to 10 chews |
| Over 100 lbs. | 2 to 3 tsp. | 10 to 15 chews |