2 December 2016
Arthur Rackham's illustrations have adorned the pages of some of the world's best-loved children's books, including Peter Pan, Alice in Wonderland and Grimms' Fairy Tales. To celebrate his long association with the festive season, we revisit ten of his most magical works.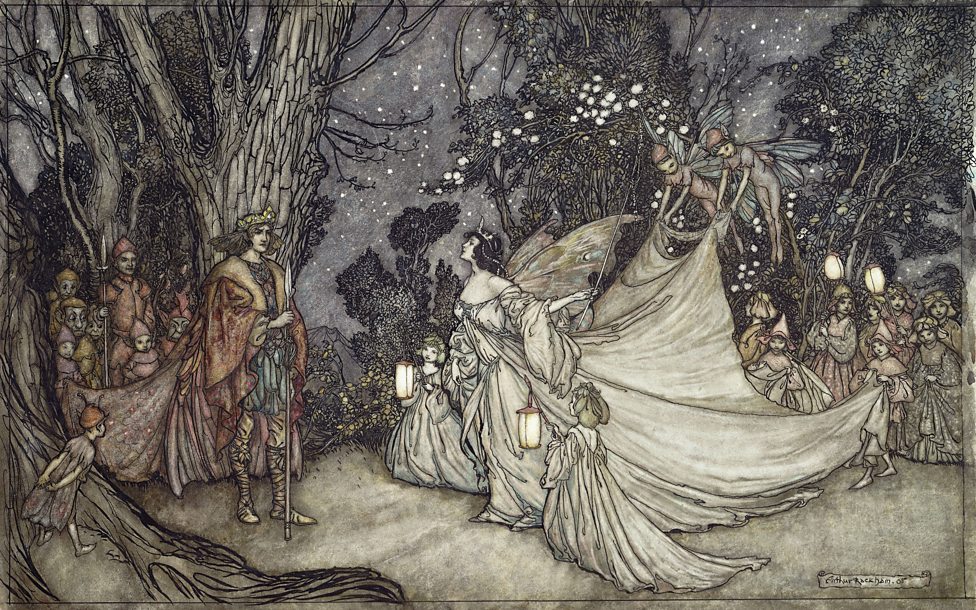 The Meeting of Oberon and Titania, 1908 (Christie's Images / Bridgeman Images)
British artist Arthur Rackham (1867-1939), was considered the pre-eminent illustrator of the early 20th century. His imaginative colour plates of gossamer fairies, mischievous goblins and gnarled trees enchanted and petrified readers in equal measure.
The art historian and broadcaster Kenneth Clark, who in adulthood would make the famous BBC TV series Civilisation, wrote of his fear at even opening the pages of his Grimms' Fairy Tales book, such were the "images of terror".
Images from Sweetheart Roland and The Two Brothers, in Fairy Tales of the Brothers Grimm, published 1900 (Bridgeman & Getty)
Arthur Rackham and J.M. Barrie
When J.M. Barrie attended an exhibition of Arthur Rackham's colour illustrations for Rip Van Winkle in 1905, he knew he had found the man to bring his character Peter Pan to life.
The image below left, Fairies in Kensington Gardens, from Peter Pan in Kensington Gardens, was Barrie's favourite of the 50 colour plates Rackham created. In a letter to Rackham he wrote:
"I think I like best of all the Serpentine with the fairies, and the Peter in his night-gown sitting in the tree... I am always your debtor, and I wish the happiest Christmas, and please, I hope you will shed glory on more of my things."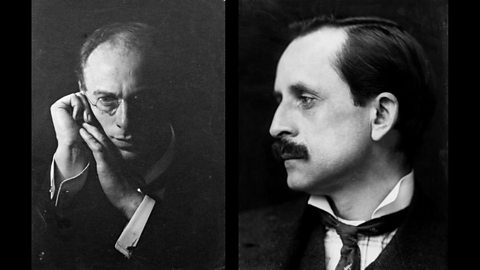 Arthur Rackham and J.M.Barrie (Bridgeman/ Getty)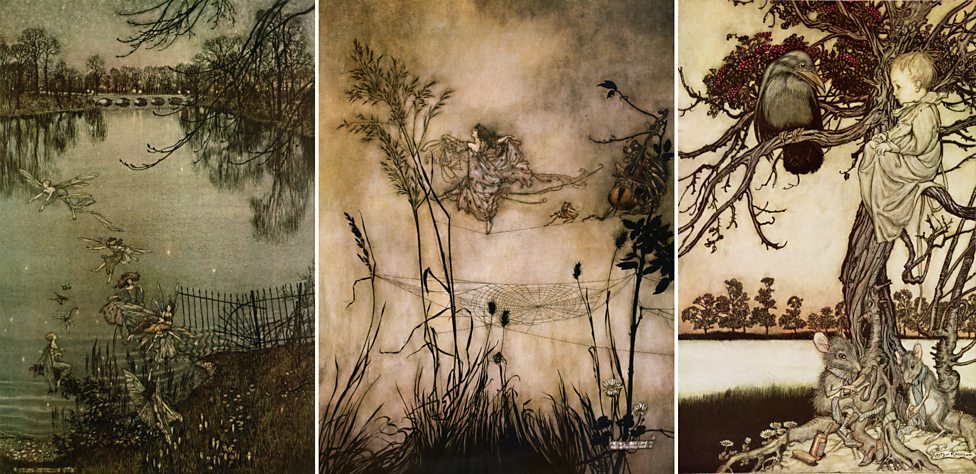 Fairies in Kensington Gardens (Bridgeman), The Fairy's Tightrope and Talking to the Crow (Getty), from Peter Pan in Kensington Gardens, 1906
The daughter of French composer Claude Debussy had one of Rackham's Peter illustrations hanging above her bed.
So enchanted was she by the image that her father wrote a special piece of music after it called Les Fées Sont D'exquises Danseuses - 'The fairies are exquisite dancers'.
'An afternoon when the gardens were white with snow' - colour plate from Peter Pan in Kensington Gardens, 1906 (Getty)
Hand-drawn Christmas card, 1906. Held in the Arthur Rackham Papers, Rare Book & Manuscript Library, Columbia University, New York
Adored by young and old
In a review published on 14 December 1906 by The Times newspaper, it was noted that Rackham's intricate Peter Pan illustrations would enchant young and old alike:
"The appeal again seems to be addressed to the drawing room rather than the nursery. It is all very subtly contrived to catch the fancy of (self) indulgent elders at Christmas time..."
The book became the best-loved Christmas gift book of 1906 and continued to be a favourite for many more to come.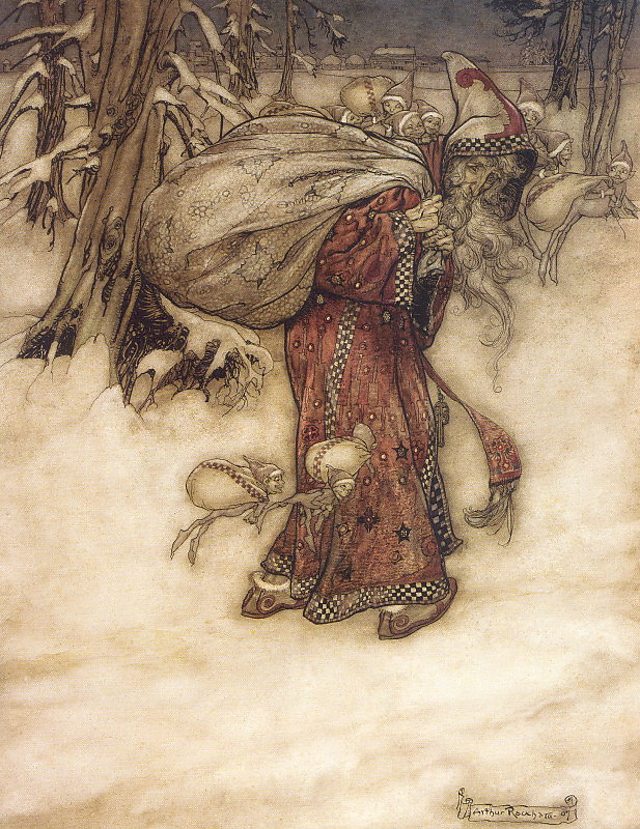 Father Christmas, 1907. From Arthur Rackham's Book Of Pictures (1913)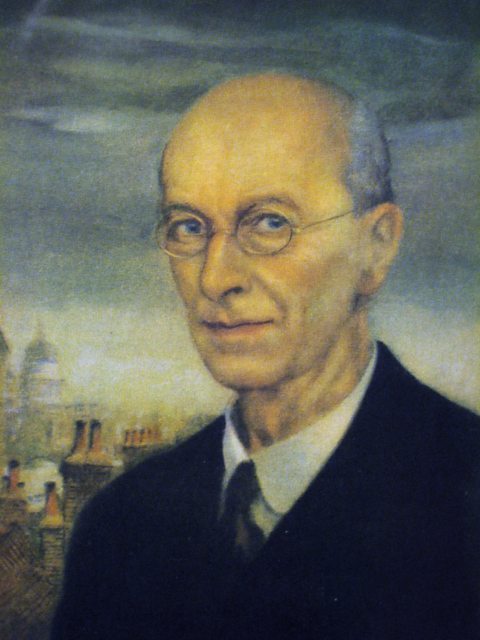 A Transpontine Cockney, self-portrait, 1934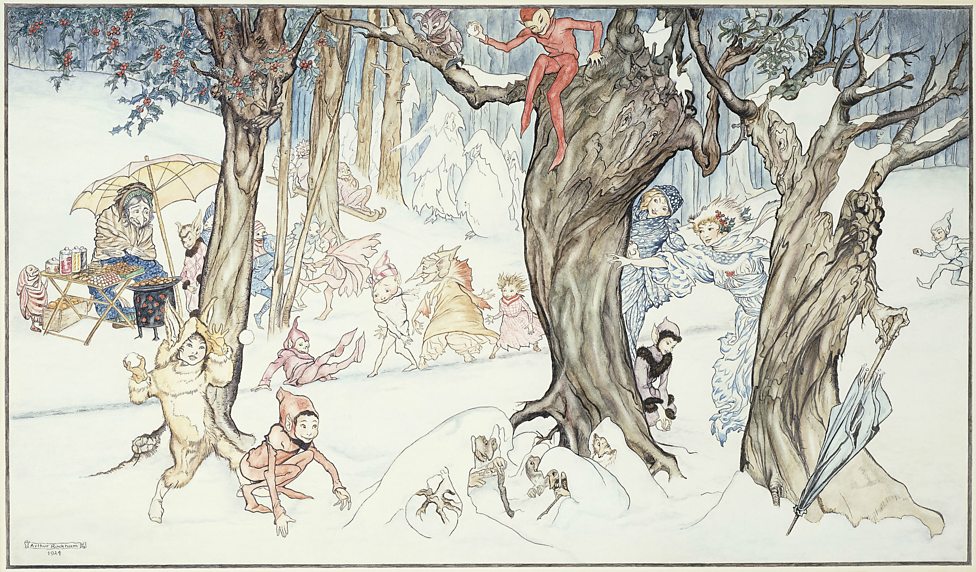 Winter Frolic, 1924. Illustration for Christmas issue of Pears Children's Magazine (Bridgeman)
Depicting Dickens' Scrooge
At the turn of the century his publishers began to understand that customers were buying their books not for the stories, but because they contained works by Arthur Rackham.
The air was filled with phantoms, wandering hither and thither in restless haste and moaning as they went

Charles Dickens, A Christmas Carol
He would work for much of the year on whichever book was due for publication in time for the festive season, and in 1915 the Rackham Christmas book was to be a new edition of Charles Dickens' A Christmas Carol.
First published in 1843, the Victorian morality tale was an instant hit and when Rackham's version came out 72 years later with his 12 new colour plates and monochromatic illustrations, it was hugely popular.
Even today an original limited edition gift copy can sell for thousands of pounds.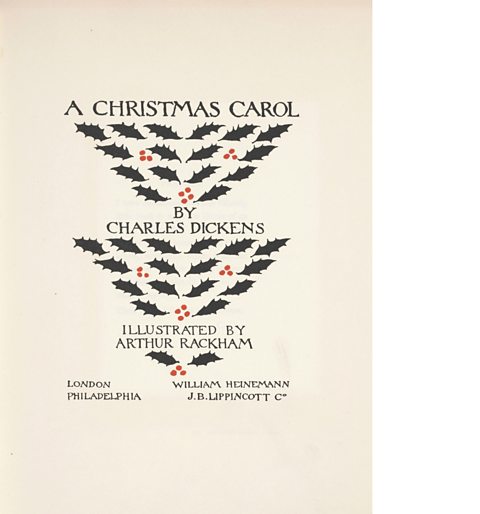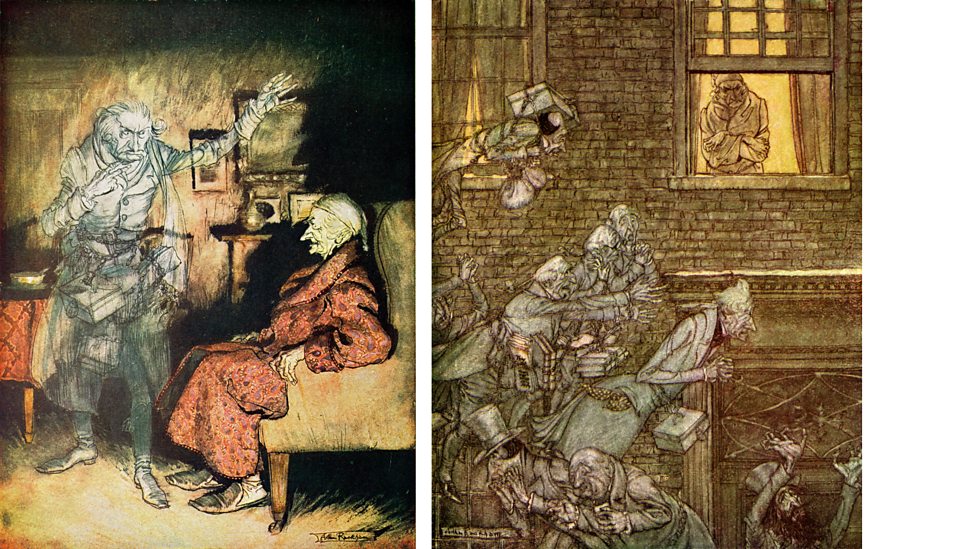 "How now?" said Scrooge, caustic and cold as ever. "What do you want with me?" (left image) (Getty)
A far-reaching influence on art
The influence of Rackham on the art world in the decades since he died in 1939 is difficult to measure. However, many creative people have gone on record to acknowledge their debt to his unique interpretation of the world with his creatures both graceful and grotesque.
Guillermo del Toro cited him as a direct influence on the design of his 2006 film, Pan's Labyrinth. And C.S. Lewis, author of The Chronicles of Narnia, was much taken with the illustrations for Siegfried and the Twilight of the Gods, saying that upon reading it:
"Pure 'Northernness' engulfed me: a vision of huge, clear spaces hanging above the Atlantic in the endless twilight of Northern summer, remoteness, severity..."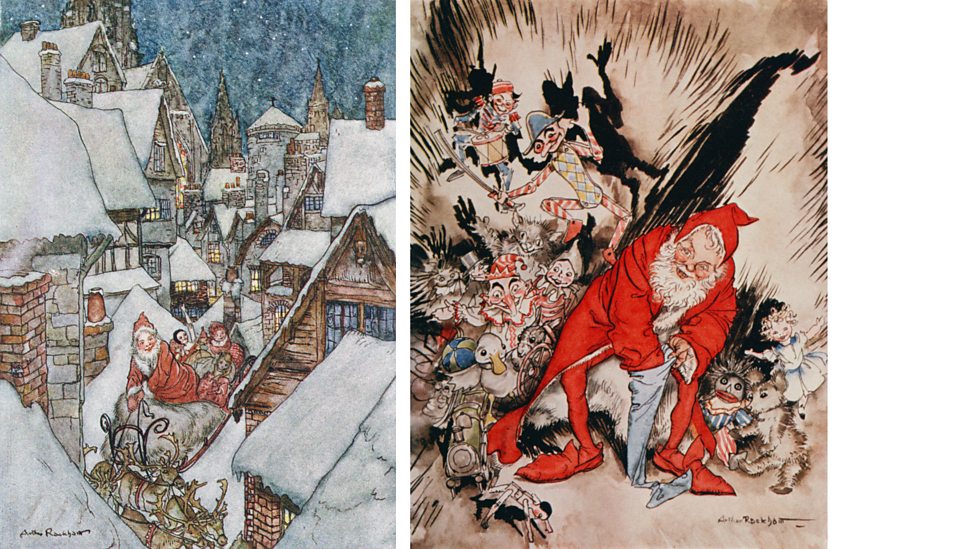 Christmas illustrations from The Night Before Christmas, by Clement C. Moore, 1931 (Bridgeman)
Blackened trees of London
Rackham's signature motif, most would agree, are his bare winter trees with their inky black, eerie human features. Rackham grew up opposite, and had access to, a very mature garden in his neighbourhood of Lambeth, full of diverse tree species.
In 1934 he accounted for his own hand drawn trees' distinct dark appearance, pointing to the atmosphere of sooty London at the time: "You know how fond I am of drawing bare winter trees and drawing them with black ink. Well it was almost a discovery for me when I found that tree branches were not black in the country."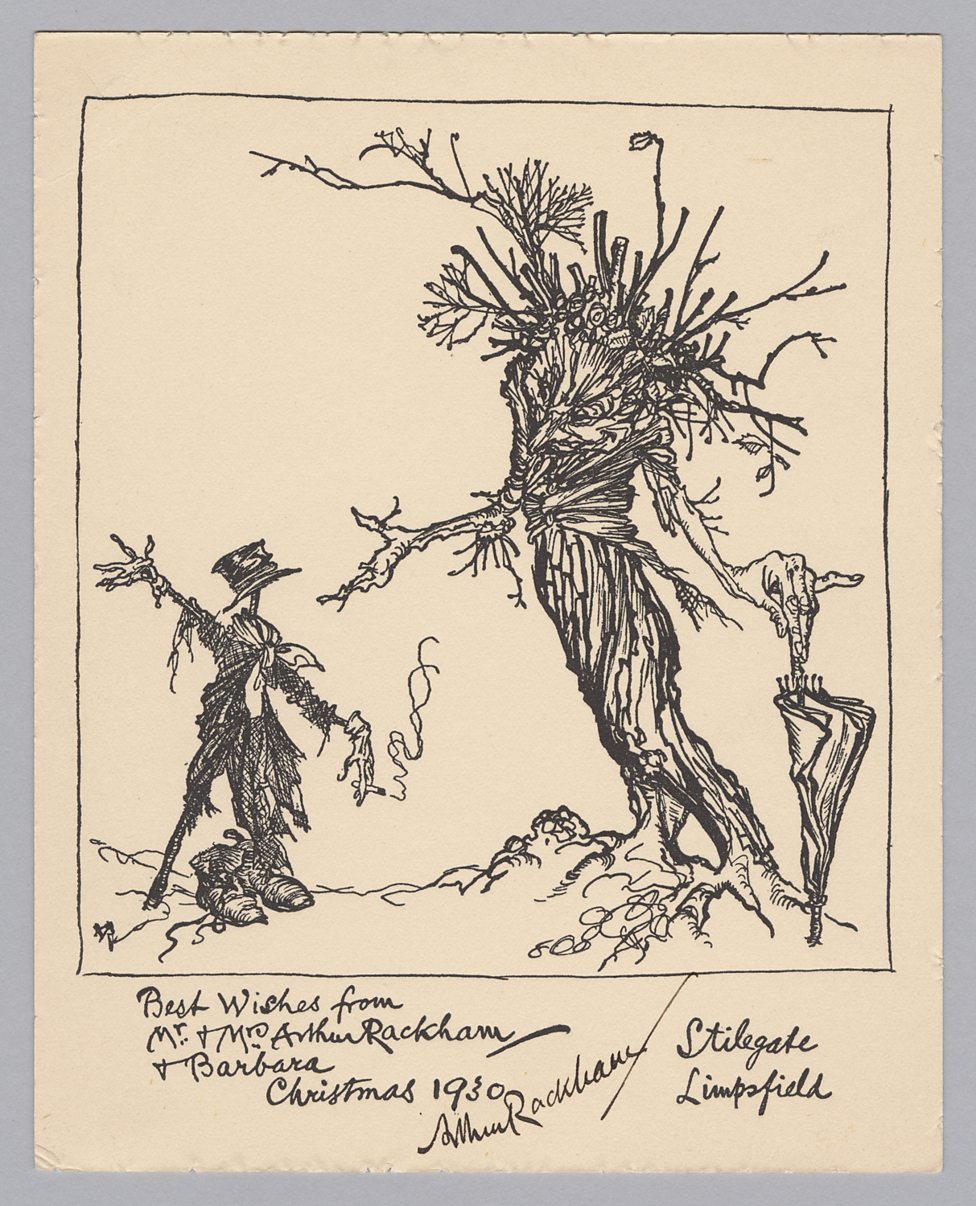 Hand-drawn Christmas card, 1930. Held in the Arthur Rackham Papers, Rare Book & Manuscript Library, Columbia University, New York