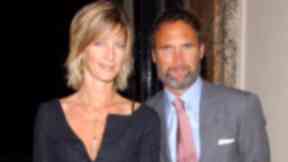 Sunday Times restaurant critic AA Gill has died at the age of 62, three weeks after revealing he had cancer.
The writer revealed his illness in an interview in November - diagnosed only recently after his family became concerned about his rapid weight loss.
Gill said he had no regrets about his diagnosis, adding that it prompted his proposal to Nicola Formby, his partner of nearly 25 years.
Following Gill's death on Saturday morning, Sunday Times editor, Martin Ivens, paid tribute to the "giant among journalists".
Ivens sent a memo to staff announcing the news: "It is with profound sadness that I must tell you that our much-loved colleague Adrian Gill died this morning.
"Adrian was stoical about his illness, but the suddenness of his death has shocked us all.
"Characteristically he has had the last word, writing an outstanding article about coming to terms with his cancer in tomorrow's Sunday Times Magazine.
"He was the heart and soul of the paper. His wit was incomparable, his writing was dazzling and fearless, his intelligence was matched by compassion.
"Adrian was a giant among journalists. He was also our friend. We will miss him.
"I know you will want to join me in sending condolences to Nicola Formby and his children."
Gill - known to some by his first name Adrian - will have his final column published in Sunday's newspaper.
In a Sunday Times article published in November, Gill revealed he had been diagnosed with the "full English" of cancers and described the illness as "meaty malignancy".
The father-of-four said: "I've got an embarrassment of cancer, the full English.
"There is barely a morsel of offal that is not included.
"I have a trucker's gut-buster, gimpy, malevolent, meaty malignancy."