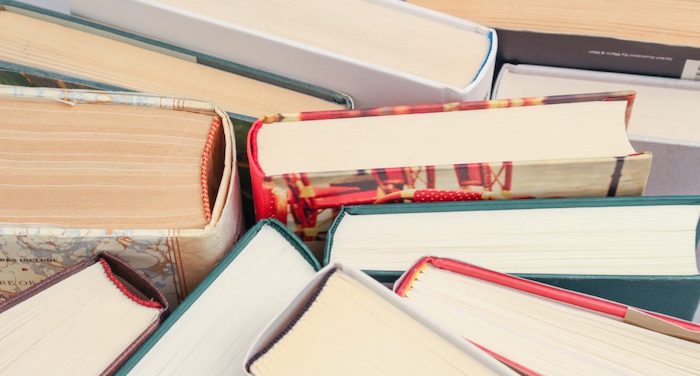 What does all this mean? What's a mass market paperback, and how's it different from any other paperback? Why are books different sizes anyway? Let's revisit the different types of book formats and why each exists.
TRIM SIZES
Before we go any further, a note on terminology: "Trim size" is publishing industry speak for book size. After a book is bound, it's trimmed down to one of several uniform sizes—sizes for which, in the United States, you actually have Woodrow Wilson to thank.
That pair of granularly named committees is responsible, for example, for our standard letter sizes (8 x 10 ½ inches and 8 ½ x 11 inches). How they arrived at such a definition is telling. The dimensions, Houston writes, were (super scientifically) copied from Secretary of State Herbert Hoover's personal letter paper.
Regardless, any time I refer to "trim size," I'm merely referring to the actual size of the book.
HARDCOVERS
Likely, you'll see them in your local library, too. Hardcovers—especially those with reinforced library binding—hold up better over time for multiple borrowers, particularly with popular titles, according to Leah Oswald, a reference librarian with the Austin Public Library. Books with lower expected circulation, meanwhile, often get stocked in cheaper paperback form.
Why? Any number of reasons. Readers may prefer hardcovers because they're more durable than paperbacks. Bookstores may prefer them because they're larger, more easily visible on bookshelves. Without a doubt, publishers prefer hardcovers because they're more profitable, often selling for "twice the price of a paperback" without twice the production cost, Jones said.
TRADE PAPERBACKS
And then World War II.
When those soldiers returned home, there was no going back to days without a less expensive, widely available, easily held book format.
MASS MARKET PAPERBACKS
Dedicated readers of genres like romance get very attached to the hand-feel of mass market paperbacks. They're easy to hold and easy to stow. That's why Harlequin and Kensington's announcements about the "mass max" paperback are such big news. The mass max books will measure an expanded 4.75 x 7 inches. That may not seem like a big increase, but think about the size of your palm in comparison to ¾ of an inch.
Time will tell if the mass max will eclipse the smaller mass market paperback or even eat into the number of books published as trade paperbacks.
OVERSIZED BOOKS
These "large, heavy books, measuring over 10 inches wide by over a foot long" were part of a coordinated campaign to lobby Congress on wildlife protection bills, Dunaway writes: "Sierra Club artists used the camera to present nature as sacred and sublime; their photographs encouraged audiences to view wilderness as a place where people are visitors who do not remain."