Need an extra dose of Sherlock? Head to the art shrine where he fell
Graffiti near Bart's hospital inspired by the BBC's Sherlock adds a new dimension to Arthur Conan Doyle's vision of London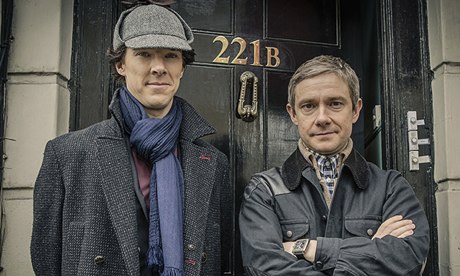 Sherlock
has created its own strange world of street art. Like clues left by Moriarty, or an enigmatic code inscribed by the supposedly dead detective himself, a variety of messages mark a London street at a particularly poignant place.
I was walking past
Bart's hospital
, thinking about anything but Sherlock, when I suddenly noticed the scribbles all around me, in a phone box, on the pavement, even on the hospital windows (written from inside).
Perhaps it's no surprise, given how long we've had to wait to find out how
Sherlock survived the Reichenbach Fall
, that so many fans have felt moved to visit the site of his "death" and leave declarations of faith such as "I believe in Sherlock" or "I still believe in Sherlock". There's also one message from Moriarty.
It is by decoding these bizarre symbols that Holmes deciphers the criminal secrets of 19th-century London. In their witty update of Sherlock,
Steven Moffat and Mark Gatiss
turned to graffiti art as a 21st-century urban arcanum. In one episode, Sherlock consults a street artist who is painting outside the National Gallery – and when the police come Watson is left holding the can.
Cities are forests of meaning. Urban underworlds can be found through the strange clues they leave. This is one of the insights of
Conan Doyle
that makes his tales of London's cerebral superhero so timeless they can be transposed to a world of smartphones without losing their atmosphere. It's fitting that Sherlock has now added its own mysterious inscriptions to the mysterious streets of London.