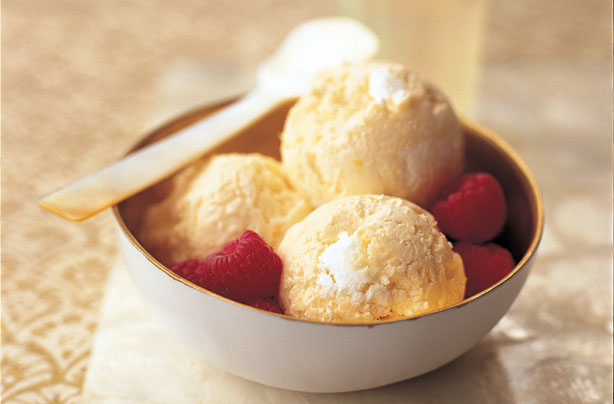 plus 6 hours freezing time
Mary Berry's no-churn lemon meringue ice cream is a super easy way to turn broken meringues into a smart pudding - no ice cream maker required! It's dreamy with fresh summer berries, or even alongside a hot pudding. This simple ice cream recipe is made in a loaf tin so you can cut slices out of your ice cream to make a smart dessert. Lemon meringue is a really classic flavour combo as the sweet and crunchy meringues go so well with tangy lemon. This dessert is a real treat any night of the week, as it can keep for ages in the freezer - all you have to go is pull it out when you need it!
Ingredients
50g meringues (they can be broken ones)
300ml double cream
grated zest and juice of 1 lemon
½ jar of homemade or luxury lemon curd
seasonal fruits, to serve
This ice cream can be made and kept in the freezer for up to a month which means that when you've got guests coming, you can remove it from the freezer and bring it to room temperature for 10 minutes before serving.
Method
Line a 1lb (450g) loaf tin with cling film. Lightly break up the meringue into chunky pieces. Whisk the cream lightly until the whisk leaves a trail when lifted. Add the lemon zest and juice, and the lemon curd to the cream. Lastly, fold in the meringue, trying not to over-crush the meringue pieces.

Spoon the lemon meringue mixture into the loaf tin and cover with cling film, then freeze for at least 6 hours. If the ice cream has been in the freezer overnight or longer it has to be brought to room temperature for about 10-15 minutes before turning it out on to a plate.

Dip a sharp knife in boiling water before slicing it. Individual slices of ice cream can be frozen again on a plastic tray and wrapped in cling film if you dont want to serve it all at once.

Serve with seasonal fruits.
One Step Ahead by Mary Berry (Quadrille £20) Photography: Martin Brigdale